Couple's Escort Dates: 4 Things to Know before You Try It!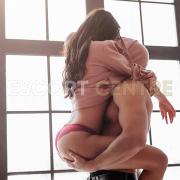 As part of the overall escort experience; there is one service that equally pleases both men and women- and it known as couple's escort dates. Intended for curious couples who want to add a tad of spice to their dating life; couple's escort dates make a fine option for extra company, TLC, and experimentation.  
Before booking a couple's escort date, however, there are several things to keep in mind before time. From the way you organize the course of your date to privacy and discretion; here are 4 things to consider before jumping into action.  
Boundaries
With three people involved in one scenario, there are always three times the boundaries to consider. While you and your partner might have your own limits; it is also good to consult your escort date and learn more about her green and red lights. Discussing boundaries once your date begins is considered a waste of time and can only add confusion to the scenario- so it's best you clear the air; way before you meet up.  
Consult the Escort Agency
If booking a date at Huddersfield Escorts VIP, we are always happy to answer your questions on couple's escort dates and what these include. In addition, we are prepared to make recommendations and find you the ideal escort date to hang with both you and your partner. Ahead of booking a date, consulting your escort centre on the duration of your date; the services involved as well as the fee is important as it helps put things into perspective and get you ready for a carefree experience.  
Equal Attention
When dating an escort as a couple, you want to ensure both of you get the same attention from your date. If in it together, a couple's escort date should equally please both partners and provide them with the service they need. Being selfish doesn't have a place in this scenario, as when three people come together; they all expect and should have a role in the arrangement.  
Experiment
Couple's escort dates at the Huddersfield VIP escort agency allow curious couples to experiment in dating; sexy thrills and endless pleasure. As escorts are experts in their craft, they know which strings to pull in order to bring you the kind of service you hoped for. Instead of letting your nerves get the best of you; try to use this experience as a starting point into a more dynamic and versatile dating life- with a partner.